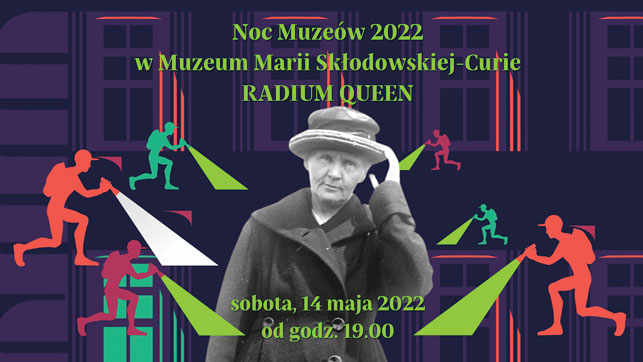 Premiera książki "Radium Queen. Maleńkie polsko-amerykańskie muzeum wyobraźni" – dramatu scenicznego napisanego przez Artura Pałygę na zamówienie dyrektora Muzeum Marii Skłodowskiej-Curie. Inspiracją do powstania sztuki była pierwsza podróż Marii Skłodowskiej-Curie do Stanów Zjednoczonych.
Premierze będzie towarzyszyła prezentacja nagrania czytania performatywnego sztuki w reżyserii i wykonaniu Edyty Łukaszewskiej, której towarzyszą Elisabeth Duda i Zbigniew Moskal. To wydarzenie jest także zapowiedzą najnowszej wystawy czasowej w naszym muzeum, na którą zaprosimy już niebawem.
Przedsmak wystawy także podczas Nocy Muzeów.
Odkrywamy to co na codzień jest niewidoczne. Zapraszamy do zwiedzania naszej ekspozycji stałej z latarkami UV.
Dla najmłodszych zwiedzających przygotowaliśmy atrakcje w postaci quizu biograficznego i prezentację prostych doświadczeń na postawie lekcji Marii Skłodowskie-Curie. Zajęcia będą tłumaczone symultanicznie na język ukraiński.
Zagraniczni goście mogą skorzystać z audioprzewodnika, który dzięki aplikacji można pobrać na telefon komórkowy. Do dyspozycji obok polskiej jest narracja angielska i ukraińska.
Czekamy przy ul. Freta 16
od godz. 19.00 do 1.00.
Wstęp wolny