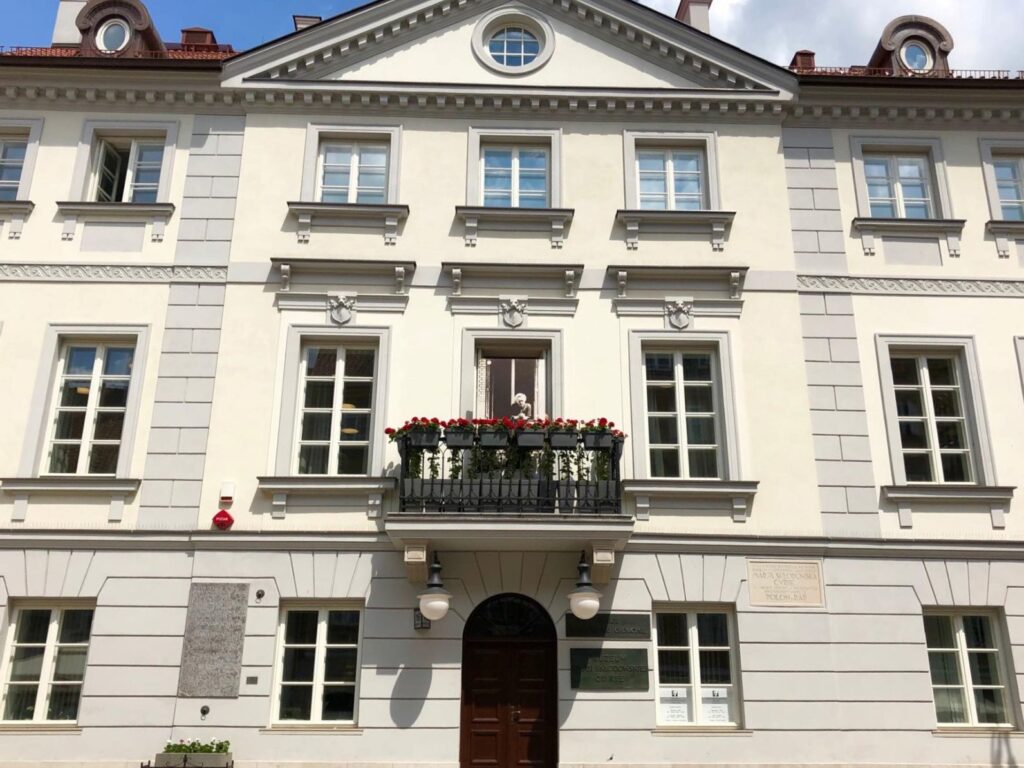 Rada Miasta Stołecznego Warszawy na posiedzeniu 13 maja 2021 powołała Radę Muzeum Marii Skłodowskiej-Curie, w jej skład weszli:
13.05.2021

1) Joanna Bogdańska – Prezes Zarządu Merck Group.
2) Prof. dr hab. Zbigniew Galus – Prezes honorowy Polskiego Towarzystwa Chemicznego, polski chemik, specjalista w zakresie chemii nieorganicznej, elektrochemii i elektroanalizy, profesor Wydziału Chemii Uniwersytetu Warszawskiego, członek rzeczywisty PAN.
3) Prof. dr hab. inż. Maciej Jarosz – skarbnik Zarządu Głównego PTChem, kieruje Katedrą Chemii Analitycznej na Wydziale Chemicznym Politechniki Warszawskiej, jest członkiem Prezydium Komitetu Chemii Analitycznej PAN i przedstawicielem tego Komitetu w Division of Analytical Chemistry EUCheMS.
4) Prof. dr hab. n. med. Marek Krawczyk – profesor medycyny, nauczyciel akademicki, lekarz, specjalista w dziedzinie chirurgii ogólnej, chirurgii onkologicznej oraz transplantologii klinicznej, członek korespondent Polskiej Akademii Nauk. W latach 2008–2016 rektor Warszawskiego Uniwersytetu Medycznego.
5) Prof. dr hab. Izabela Nowak – chemiczka, profesor Zakładu Chemii Stosowanej Wydziału Chemii Uniwersytetu im. Adama Mickiewicza w Poznaniu. Prezes Zarządu Głównego Polskiego Towarzystwa Chemicznego w latach 2019-2021.
6) Dr Piotr Rypson – polski historyk sztuki, kurator, krytyk, literaturoznawca, publicysta. W 2018 pełnił obowiązki dyrektora Muzeum Narodowego w Warszawie.
7) Joanna Staniszkis – radna m.st. Warszawy w kadencji 2018 – 2023, doktorantka University of Washington w Seattle. Jest nauczycielką matematyki w warszawskich liceach z Maturą Międzynarodową.
8) Iwona Stefaniak – historyczka sztuki, od 2004 r. dyrektor Muzeum im. Kazimierza Pułaskiego w Warce.
9) Mariola Wojtkiewicz – kierowniczka działu Marketingu Muzeum Zamkowego w Pszczynie, wieloletnia kierowniczka Domu Urodzenia Fryderyka Chopina w Żelazowej Woli.

Rada Muzeum będzie sprawować nadzór nad wypełnianiem przez muzeum jego powinności wobec zbiorów i społeczeństwa, w szczególności nad realizacją celów określonych w statucie.